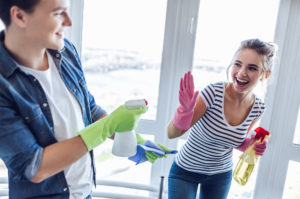 Take a moment to look out your windows. How clear is your view? How much natural light is entering your room? Can you see the dirt on and around your windows and security screens? It's quite off-putting to notice the build-up of dirt and salt deposits. 
Very few people realise the importance of having windows and security screens professionally cleaned. 
We have extensive experience in this. In fact, we take great pride in using specialised products and techniques that provide a spotless solution. 
When you stop to think about it, when it comes to windows and security screens, you can't really clean one without the other. It doesn't make sense to do it any other way. 
We offer a comprehensive service that combines window and security screen cleaning. 
It's one of the ways in which we aim to make our services as practical as possible. Rather than doing half a job, or creating two separate jobs, we combine it into one service. It is just common sense to complete something thoroughly. 
The best part is that combining windows and security screen cleaning does not cost much extra.
So you get a combination of two services and a more thorough result, without having to pay much more than the cost of one service. What's not to like about that?
Does the combined service take a long time?
The short answer is No. In fact, we offer an incredibly quick service. If possible, we try to offer our clients the same day service. This greatly minimises any inconvenience or disruption that might be caused by the cleaning process. 
Enlisting the services of a professional cleaning services saves you time and money, and ensures a superior solution. Not only that, but it serves to better maintain your windows and security screens.
For professional window and screen cleaning, contact us today.